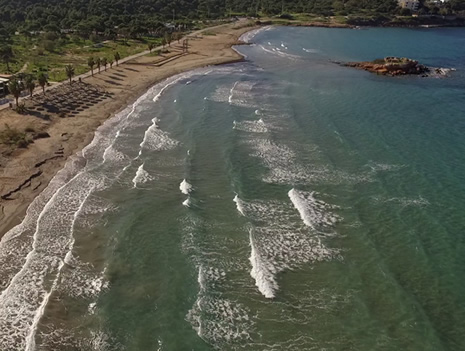 Kavouri Beach

Two successive beaches, total length about 900 meters.
They have sand on the coast and in the sea and clear shallow water.
It is sandy with free sections and organized. Its waters are quite shallow, which makes it ideal for family beach excursions.
There is one of the most beautiful playgrounds of our Municipality, the Kavouri Playground, fully renovated and safe.
The sand is in its softest and golden hue and like a golden blanket outlines the silver sea, creating the perfect image.
Bathers can be served by shops operating a short distance
Great sandy coast with shallow waters and an islet very close (go directly on foot), refreshment (renovated), view of the densely populated Athenian Riviera... Green area with wide paved path to enjoy the walks!
In Megalo Kavouri passes the Ancient Road, visible to the visitor after the landscaping works of the beach.
Leaving the beach you will want to take another look and carve it in your memory. You want to have alive the aroma of the aura that comes from the sea but also the feeling of sand


Access instructions.
* Metro: Γ2, Line 2,(red), stop at: "Elliniko station" combine with Bus: Line: 122 * Tram line, stop at "Voula station" combine with bus: Bus: line117 * Buses: - A1 Piraeus - Voula Orange bus: Route: Athens - Sounion


Peculiarities - Danger
People of all ages especially families with children due to the shallow waters.