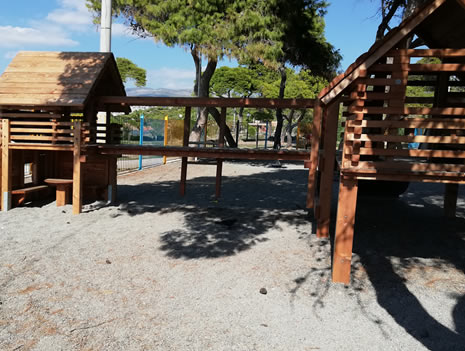 Playground "Kavouriou"

The ideal playground, equipped with modern games, surrounded by trees and right next to the sea.
Going to this playground is probably the best choice one could make, as it allows the families who visit it to, after their children are done having fun in the playground, go for a walk on the beach, the breeze gently calming the summer heat.
Here one can find both the smell of iodite, the sound of the waves against the sand but also the soothing chill of twilight.
The floor of the playground is covered with sand and the games are all made out of wood, so that it is in complete harmony with the surrounding environment.
The area is fenced and there is much space both for the children to run and have fun in as well for the parents to relax in benches while keeping their eye on them.


Access instructions.
Leof. Kavouriou, Vouliagmeni 166 71


Certification
The playground has a Special Certification Mark from Ministry of Interior.