Holy Church of the Dormition of the Virgin Mary - Voula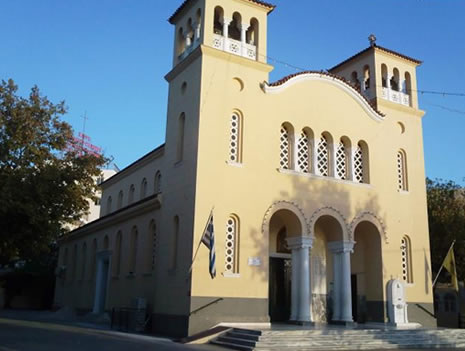 The Church of the Assumption of the Virgin Mary of Voula initially worked as a shack by the Priest and Founder Fr. Demetriou Kantaras in the year 1938 and then it was gradually built and took the form it has today.
Since the establishment of the new Metropolis of Glyfada (June 28, 2002), the Cultural Center of the Parish temporarily houses the Offices and the Library of the Holy Metropolis.
Celebrates: August 15.
Source: Holy Metropolis of Glyfada
Address: Vasileos Pavlou 2 P.O. 166 73, Voula.
Tel: 210 8958 128, Fax. 210 8951 843
Chapels:
St. Panteleimon (Asklepieion Voulas),
St. Stylianos (Rehabilitation - Children's Therapy Center
, former P.I.K.P.A. Voulas)

Bus lines that serve the Church:
From Athens:: A2. Metro (M2) to St. Greek and continuous transfer to 122 (up to a hospital stop).
From Piraeus: A1, X96.
From Glyfada: 115, 116, 117.
Holy Church of Panagia Faneromeni (Virgin Mary revealed)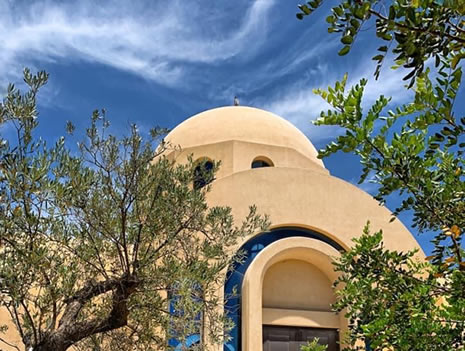 Vouliagmeni The Church of Panagia Faneromeni (Holy Mother) in Vouliagmeni is not another traditional church.
Every angle and detail is designed with a point of view and inspiration, so that from the most traditional base, the Byzantine style that has been cultivated for over a millennium and a half, details emerge that refer more to an architectural avant-garde.
Nothing in this temple is accidental in its place. From the original design to the smallest object, everything serves a single rationale. The architect designed especially for this church the iconostasis, the despotic, the chairs, the bench, the chandelier, the candelabra.
The color of the church, the glass arches above the entrances, the "hidden" spiritual center in the foundations of the church, all show the visitor that there is a lot of evidence to discover, behind the first level of the obvious.
The history of the church begins almost 30 years ago.
The rhythm of the church is free cruciform with a dome. Its surface reaches 580 square meters.
The church was designed so that the visitor feels joy, tranquility, peace and uplift.
It was designed to attract the faithful as a hug. When someone passes by outside, he feels that it is something familiar, that it is calling him.
The trademark of the new church is of course the glass arch above the bronze doors, an element original and characteristic.
The characteristic color of the church was chosen for the sense of age it gives while making the church more intimate.
Chapels:
1) Agios Georgios (parish), 3, Agiou Georgiou Street, Kavouri. P.C. 166 71. Tel.: (210) 8960.261, Fax: (210) 9670.753.
2) Dormition of the Theotokos (Vouliagmeni Orphanage - Archdiocese of Athens)
3) Saint Panteleimon (Holy Monastery of Petrakis)
4) Agios Nikolaos (within the Air Unit 128 SETI Kavouri - Holy Monastery of Petraki)
5) Agios Sozontos (Private)
6) Holy Trinity (Private)
Celebrates: On The 2nd of February and on the Sunday of All Saints (the Saints Gregory, Theodore and Leo, the Cephalonia Fanentes).
Bus lines that serve the Church:
From Glyfada: 115, 117, 122

Address: 1 Athinas and Aiolou Avenue
P.O. 166 71
Tel: 210 8964 068 Fax. 210 8964 033