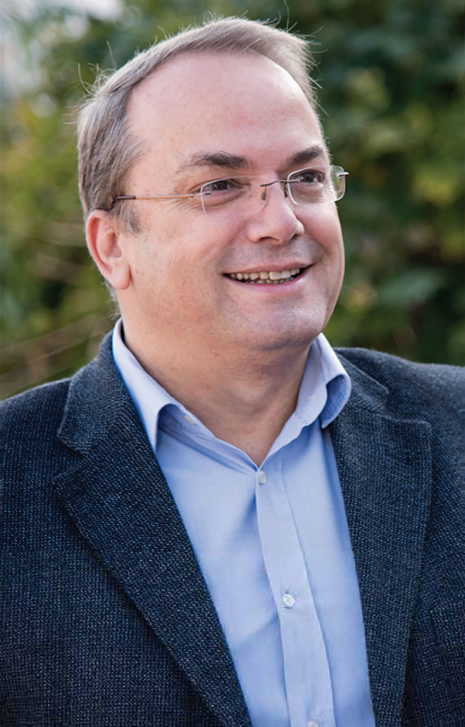 Grigoris Konstantellos

Grigoris Konstantellos was born in Voula in April 1967. He is married to Konstantina Yatsis and they have three children (Athena, Pella and Dimitris). His parents are Dimitris Konstantellos Lieutenant General and Athena Carlos Konstantellou.

He attended Athens College and graduated from Voula High School in 1985. He was trained at the US Air Academy "FLIGHT SAFETY", where he received a professional aircraft operator degree.

He is a graduate of the Department of Public Administration at Panteion University and holds a Masters Degree in Aviation Management from the City University of London, London. He holds a Ph.D. in Management Science from the International School of Management (I.S.M) in Paris.

From January 1988 to December 2009 he worked at Olympic Airways and Olympic Airlines as a Co-Commander for nine years and as Commander for thirteen years. After leaving the company in December 2009, he left as a Commander-in-Chief at Boeing 737-400. He then worked for a relatively short time in the Civil Aviation Service and in 2011 returned to his flying duties as a Boeing 737 / 300-400 commander in the United Nations (UN) operations and in transporting the UN soldiers to and from the war zones of the world. He then served as Boeing 737 / 800-900 Commander at Turkish Airlines until December 2013.
He is currently Commander at Falcon 900 / DX EASy 2.

He has been a Member, Treasurer, Secretary-General and President of the Civil Aviation Operators Association (CCAF) for fifteen years, and has also served for six years in the management committee of the OA Pilot Auxiliary Pension Fund. He is also a member of the European Union of Air Transport Pilots for three years (2004-2007).
During his school years he was President of the students in 1st High School of Voula for two years (83-84 and 84-85).

He has been actively involved with Local Government and served as Voula Municipal Councilor 1990-94 and 2002-06, as well as Vice Chairman of the Municipal Board 1990-1994.
He was elected for the third time in the 2006 elections and served as Deputy Mayor for Administration and Finance and Deputy Mayor from January 2007 to February 2010.

In the November 2010 municipal elections, he claimed the post of Mayor of the new City of Vari Voula Vouliagmeni and received 45% of the preference of the local electorate in the second round of elections, assuming and holding office until 31/8/2014. of the Head of the Majority Minority of the Municipality (Official Opposition).

At the May 25th, 2014 Municipal Elections, he led the "Vari Voula Vouliagmeni - City to Live" party, and has been mayor of the Vari Voula Vouliagmeni Municipality since September 1.

In the May 26, 2019 Municipal Elections, he led the "Vari Voula Vouliagmeni - City to Live" party, with 72.04% and 24 of the 33 seats and since September 1, he is again the Mayor of Vari Voula Vouliagmeni.