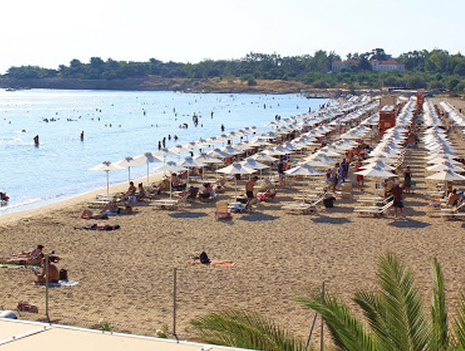 A Voula Beach

The beach has fine sand both on the coast and in the sea.
The waters are crystal clear and shallow - a fact attested by the Blue Flag with which it has been awarded since 2002.
There are no rocks and stones.
During the summer months of operation the beach is supervised daily by a team of lifeguards and there is also a provision of
It has sunbeds (aluminum and wooden), umbrellas (aluminum and wooden), lifeguard, doctor, toilets, changing rooms, showers, clothing shops, jewellery and marine items, restaurants (ice cream, meze shop, grill shop, Mediterranean cuisine, fast food), beach bars and event venues.
There are on-site football fields, beach volleyball courts, tennis courts. During its session, children's summer camp, concerts, themed music and fashion parties and volley.
Opening hours with entrance fee are 09:00 -19:00. After 19.00 there is no charge.
The beach does not operate in winter, but there is the possibility of free access. The beach is aimed at people of all ages! It is attractive to both young people and older people since each point has its own unique element! Due to its depth (shallow water to a large extent) it is ideal for children


Access instructions.
Metro: Γ2, Line 2,(red), stop at: "Elliniko station" combine with Bus: • Line: 122 • Line: 171 - Tram line, stop at "Voula station" - Orange bus: Route: Athens - Sounion


Peculiarities - Danger
There is a concrete ramp up to the entrance of the coast at a specific point of the beach that also serves wooden flooring, (dec), along the entire beach that can serve in the movement of bathers.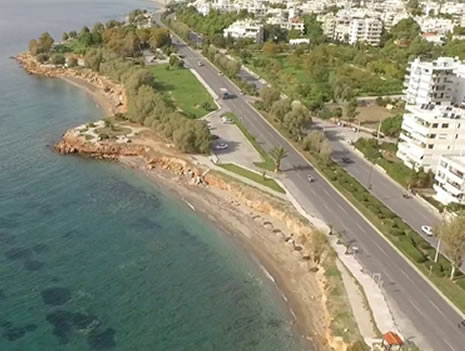 Small free beaches in Voula

Small free beaches, dear to the residents of Voula with pebbles or sand.
They are located along the route from Aslipieion Hospital to the Town Hall and are not organized.
Pebbles on the beach have their own grace. For those who have no problem to trouble their heels, pebble beaches offer cleanliness on the feet before entering the car and somewhat less whipping (from the sand) on days when the winds are in their mood.
Their waters are green with pebbles inside and out. They are not organized, so you should take care of chairs, umbrellas, etc., while it is worth visiting them late in the afternoon to enjoy the beautiful sunset.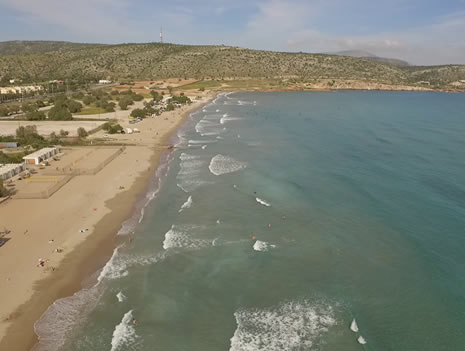 East Varkiza Beach

Free and easily accessible beach with fine sand on the coast and in the sea and clear shallow waters.
It has a length of 650 meters and easy parking.
It has thick and golden sand on the coast and in the sea clear, blue shallow waters
Beautiful and sandy, easily accessible and with free entrance is ideal for a short getaway.

It is used all year round by lovers of water sports such as wind surf, sailing, canoeing - kayaking as well as extreme sports, such as wake boarding and kitesurfing. On the East Beach operates the Nautical Club of Vari Varkiza and the corresponding premises.
It is located within walking distance from Varkiza Square, where there are restaurants, cafes, pharmacies and shops.
The Nautical Club of Vari Varkizas also operates on the East Beach. The Varis Varkizas Maritime Group operates on the East Beach.


Access instructions.
Driving through Attiki Odos of through Athens – Sounion Avenue, Parking spaces available
Bus Lines - 117, 171, 122


Peculiarities - Danger
For people of all ages especially families with children due to the shallow waters.
Caution is required when there is southern winds


Παραλίες στο Μικρό Καβούρι

Ελεύθερες παραλίες με άμμο (στην πιο απαλή και χρυσή της απόχρωση) μέσα κι έξω από τη θάλασσα και καθαρά νερά. Η άμμος σαν μια χρυσή κουβέρτα περιγράφει την ασημένια θάλασσα.

Χωρίς δισταγμό, το μπλε-πράσινο νερό, θα σας τραβήξει σαν μαγνήτης να το απολάυσετε.
Προσφέρεται αρκετή σκιά αν προλάβετε και απλώσετε… πετσέτα κάτω από τα αρμυρίκια.
Μπορείτε να βρείτε σημεία οργανωμένα και μη. Οι παραλίες είναι καθαρές, με όμορφα νερά και ακόμα ομορφότερο φυσικό περιβάλλον. Σε κάθε περίπτωση αμμουδερές για όσους έχουν πιτσιρίκια ή… ευαίσθητα πόδια. Κατά μήκος του Μικρού Καβουρίου υπάρχουν καφέ, ουζερί κι εστιατόρια.
Mikro Kavouri beaches

Free beaches with sand (in its softest and golden hue) in and out of the sea and clear waters. The sand as a golden blanket describes the silver sea.

Without hesitation, blue-green water will pull you like a magnet to enjoy it.
There is enough shade if you catch up and spread... towel under the tamarisk trees;
You can find places organized or not.
The beaches are clean, with beautiful waters and even more beautiful natural environment.
In any case sandy for those who have children or... sensitive legs;
Along Mikro Kavouri there are cafes, ouzo bars and restaurants.