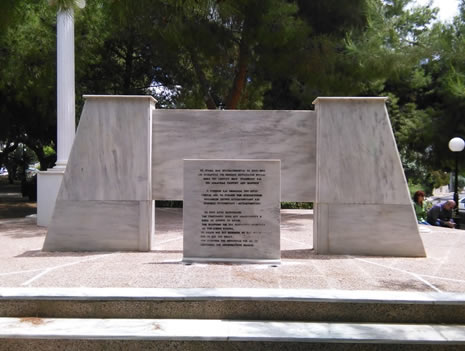 Ionia Monument
One small in volume but large in strength and memory monument.
The Ionia Monument is a small tribute to our people - the 1,500,000 people - who were left behind and lost, but also to all the refugees who, after their persecution, settled in Greece, in particular, in the refugee settlement of the region of Voula.
The Ionia Monument is the memorial to the genocide of the Greeks of Asia Minor by the Turkish state that annihilated hundreds of thousands of our ancestors. It is the memorial of the atrocities committed by the New Turks, culminating in the burning of Smyrna on September 14, '22. It is the memorial of the eradication of the first inhabitants of Voula from their eternal homes, from the soils where they have grown for thousands of years with their remarkable culture. Those people who, with their honest sweat, managed to stand on their feet, in their new homeland, but also to offer many and marvelous in its progress.
Every year in mid-September, a memorial service is held for the victims of the Asia Minor disaster at the Church of Saint John Voula and a wreath is laid at the Ionia monument.



Access instructions.
Bus Α2
Metro Μ2 --> Bus 122Θ/122 --> Walk 2 min
Metro Μ2-->Bus 171 --> Walk 9 min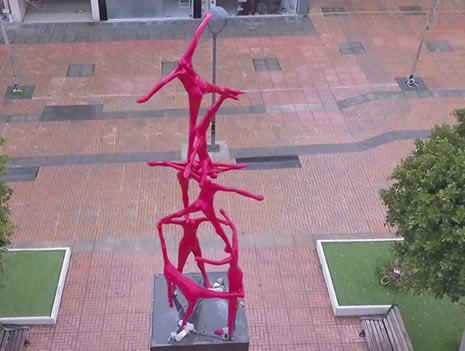 Anatasis Sculpture

"ANATASIS",or "DANCERS", the newest, monumental creation of the internationally renowned sculptor and painter Kostis Georgiou dominates the central square of Voula.
This particular project is a cluster of 7 acrobat-dancers, who make up a dynamic proposal twoards exaltation, hence the name of the artpiece.
The sculpture was cast into aluminum and then painted red. The red color has become a trademark Kostis Georgious' work in recent years,also being found in other monumental works, such as the 15-meter "COSMICON" set at the entrance of the Vanke shopping center in China, "GALILEO" Elizabeth Hospital in Brussels and other public sculptures.

Access instructions.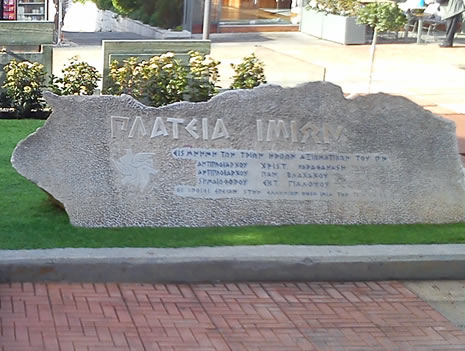 Imia Square Monument

On January 31, 1996 at 05:30 in the morning a helicopter of the Hellenic Navy, was assigned by the Navarino frigate to find out the presence of Turks in the small rocky isle Imia
The helicopter fell on his return to the frigate and the three crew members, Lt. Christodoulos Karathanasis, Commander Panagiotis Vlachakos and the Petty Officer first class Ektoras Gialopsos were killed.
The monument is in their honor.


Access instructions.
Bus Α2
Metro Μ2 --> Bus 122Θ/122 --> Walk 2 min
Metro Μ2-->Bus 171 --> Walk 9 min