Limanakia Vouliagmeni's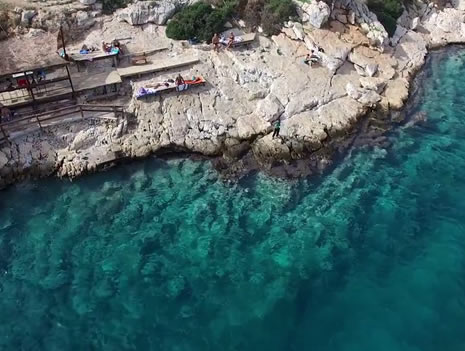 Continuing on the way to Varkiza, after the lake of Vouliagmeni, the rocks form on the coastline small natural coves with beaches that have turquoise waters. These coves with sea-beaten and wind-eaten rocks with minimal vegetation from small shrubs are the famous Limanakia (small Ports), which are particularly dear to the Athenians.
The area is formed by rocky soils that sink relatively steeply into the waters of the sea and form beautiful picturesque small coves.

The area belongs to the freed diving sites and most diving learning schools in Athens are active there. The ports become, especially in the summer, a gathering place for hundreds of swimmers, divers and snorkelers.

A dip in the ports of Mystral in Varkiza leaves satisfied and the most demanding divers.
Life here is rich. In the openings of the rocks hide dragons, while octopuses, sparrowheads and sars frequent the area.
But the most famous spot in the ports is the Devil's Well. It is in the second port of Vouliagmeni and it is an underwater well. There, at a depth of 11 meters, there is a hole 3 meters in diameter. At the end of the well there are protective railings that prohibit the entry of divers into the underwater cave.
Its position is marked by a red buoy tied with rope to the bottom of the sea.

A small canteen serves the needs of guests, which late at night is converted into an outdoor romantic Bar.
Limanakia with their wild beauty are a destination for young people but also for divers who want to explore the sea wealth of their seabed.