Vouliagmeni Lake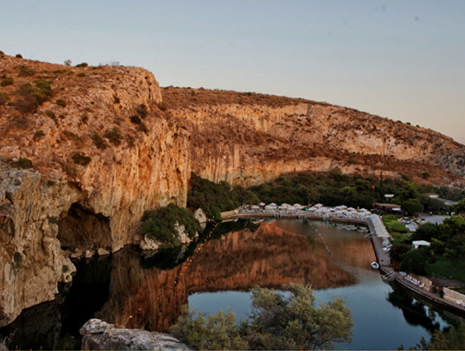 Nestled in the heart of Greece, Lake Vouliagmeni is a hidden gem waiting to be discovered. With official recognition as one of the 20 Thermal Springs of Greece by the Special Committee for the Protection of Natural Thermal Resources, and being part of the National NATURA 2000 List and a site of Outstanding Natural Beauty by the Ministry of Culture, this enchanting destination offers a harmonious blend of natural wonders and luxurious amenities, promising an unforgettable experience for visitors of all ages. For more information, please visit "lakevouliagmeni.gr".
The Healing Waters of Lake Vouliagmeni are a true wonder to behold. This natural brackish lake boasts thermal water rich in salts and minerals, presenting a unique opportunity for visitors to indulge in nature's own thermal spa. The temperature of the waters ranges from a comforting 21°C to 29°C, making it the perfect place to immerse yourself and rejuvenate your body and soul. As you swim in the healing waters, you may also encounter the friendly Doctor Fish, offering a natural exfoliation experience that adds to the overall sense of relaxation.

For those seeking elevated luxury, Lake Vouliagmeni's Upgraded Areas are a treat not to be missed. The exclusive prive lounging spaces provide a haven of relaxation and personalized service, ensuring you have everything you need to unwind and enjoy the serene surroundings. From the main deck to the tranquil embrace of nature, expect an opulent ambiance that transcends expectations, allowing you to escape from the ordinary and indulge in the extraordinary.


The Spa Experience at Lake Vouliagmeni is a true sanctuary of serenity. Surrounded by serene pine trees, the tranquil spa oasis offers a harmonious blend of man and nature, creating an environment of pure bliss and tranquility. Skilled therapists use healing spring water, KORRES products, and signature massage techniques to transport you to a state of profound relaxation. With every touch and scent, you'll feel refreshed and renewed, as if the cares of the world have melted away.

And let's not forget the Culinary Journey awaiting you at abraOvata by the lake. Led by the talented Chef John Skotidas, this unique culinary experience blends Latin American, Asian, and Greek influences, celebrating nature's beauty with a symphony of harmonious flavors and textures. From all-day snacks to exquisite gastronomic creations, every dish at abraOvata is crafted with passion and precision, leaving a lasting impression on your palate and creating unforgettable culinary memories.

Come and embrace the captivating beauty of Lake Vouliagmeni, where nature's wonders and refined luxury converge to offer an unparalleled experience. Whether you seek relaxation, rejuvenation, or culinary delights, Lake Vouliagmeni promises to exceed your expectations and leave you with cherished memories that will stay with you long after your visit.
For more information, please visit our website "lakevouliagmeni.gr".

The description is from the Vouliagmeni's Lake website
CONTACT
Lake Vouliagmeni
Poseidonos Av., Vouliagmeni, 16671
Athens Riviera, Greece
T +30 210 89 62 237
Website : lakevouliagmeni.gr
Εmail: This email address is being protected from spambots. You need JavaScript enabled to view it.
Contact: This email address is being protected from spambots. You need JavaScript enabled to view it.
Events: This email address is being protected from spambots. You need JavaScript enabled to view it.
Restaurant reservations: https://www.abraovata.gr/