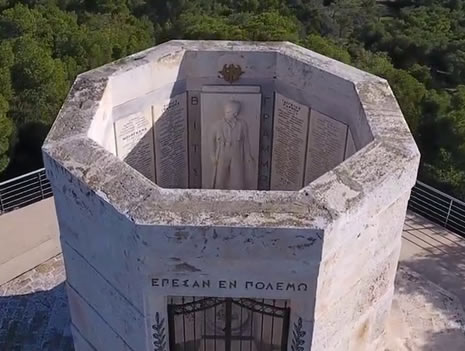 Monument of Greek Commandos

The first memorial took place in Kavouri, which was the first Commando's Training Center and it was for the commandos fallen. It was held on 1 September 1950, one year after the end of the civil war.
The General Kallinskis, founder of the Command Units, was the one who spoke at LOK's first memorial. He briefly narrated at that time, with fresh events of the battles, all the actions of the Companies.
"All the highest peaks of the mountains of Greece, Parnassos, Oiti, Giona, Othry and Pelion, with their feathered legs, fell!" Agrafa and Pindos, Parnonas, Taygetos! -Olympus and the glorified Souli! And on top of the border is Ali-Butous and Kaimaktsalan! "
On March 30, 1953, the LOK monument was unveiled in Kavouri, Vouliagmeni, with the presence of the royal couple, former Prime Minister Alexandros Papagos and of course the monumental enthusiast, General Kallinsky. The unveiling was presented by the media of the time and the scenes of the unveiling were memorized in a top-rated film. The LOK images fill with intense feelings the film's viewers, especially if they belong to the family of special forces. It is a top-down film among many but very important for the history of Command and Special Forces in general. Watch the relevant video
It has been established every year on the last Sunday of May to commemorate the fallen men.

Access instructions.
Bus Α3--->117
Bus Α2--->117
Metro Μ2 --> Bus 122Θ/122



Peculiarities - Danger
The monument is not open to the public. It is a military installation.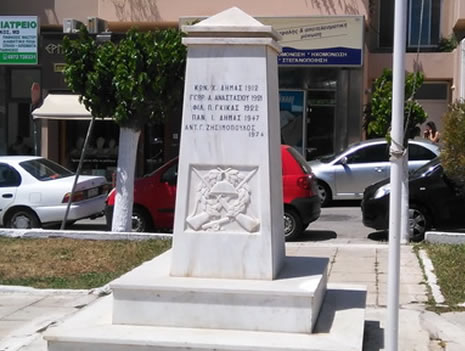 Fallen Men Monument

At Bacchus and Hephaestus Square in Vari there is a monument in honor of the dead for the homeland.

Kon. X. Dimas 1912
Georgios A. Anastasiou 1921
Fil. P. Gkikas 1922
Pan. I. Dimas 1947
Ant. G. Zisimopoulos 1974

Access instructions.
Bus Α3 --> Bus 171
Metro Μ2-->Bus 171
Bus X95 --> Bus X96