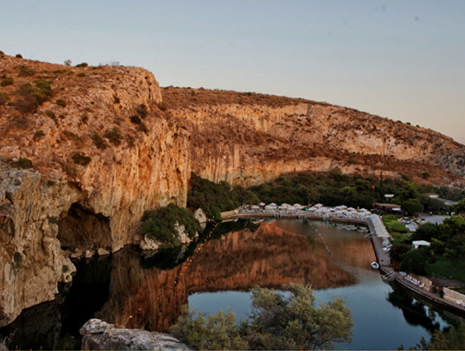 Vouliagmeni Lake

Vouliagmeni Lake, in the heart of the Athenian Riviera, is the hidden treasure of Attica's nature. Situated on an idyllic landscape, this rare geological phenomenon is waiting to be discovered. The lake's brackish waters which are continuously replenished both by the sea and the underground thermal springs offer a natural and unique thermal spa experience.

The imposing rock, thermal waters, the labyrinthine underwater tunnels and the lush vegetation create a unique geological phenomenon. The lake's present form was created after the roof of the cave fell because of erosion caused by the high temperature of the running water running. The lake is included in Greece's national NATURA 2000 network and as a Site of Outstanding Natural Beauty by the Ministry of Culture.

The labyrinthine cave.
At the edge of the lake, near the rocks, starts a labyrinth underwater cave which has been explored at a length of 3,123 metres, while the cave's end remains elusive. Among the 14 tunnels which make up the cave there is one reaching 800 metres in length the longest in the world. The discovery of a huge stalagmite in the cave has opened up new theories in the research for the formation of the Mediterranean.

The living world
The aquatic paradise of Vouliagmeni Lake hosts in its green waters a variety of unique organisms. Among them, a kind of sea anemone called Paranemonia Vouliagmeniensis stands out, as well as species of sponges and molluscs which portray the perfect balance of the lake's ecosystem. Its aquatic world also includes the known fish Garra Rufa which offer skin exfoliation.


The description is from the Vouliagmeni's Lake website

Communication.
Lake Vouliagmeni
Poseidonos Av., Vouliagmeni, 16671
Athens Riviera, Greece
T +30 210 89 62 237-9
Email: This email address is being protected from spambots. You need JavaScript enabled to view it.
Reservations : This email address is being protected from spambots. You need JavaScript enabled to view it.
Sales : This email address is being protected from spambots. You need JavaScript enabled to view it.
ALL YEAR
Contact Vouliagmeni Lake for prices
(+30) 210 8962237 (+30) 210 8962239
web site http://www.limnivouliagmenis.gr/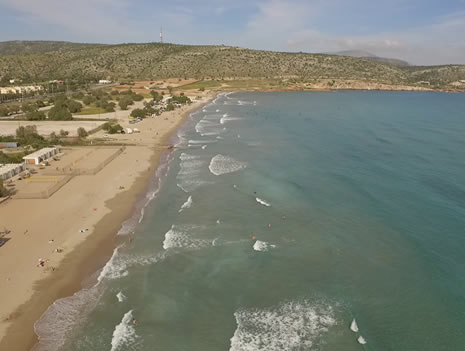 East Varkiza Beach

Free and easily accessible beach with fine sand on the coast and in the sea and clear shallow waters.
It has a length of 650 meters and easy parking.
It has thick and golden sand on the coast and in the sea clear, blue shallow waters
Beautiful and sandy, easily accessible and with free entrance is ideal for a short getaway.

It is used all year round by lovers of water sports such as wind surf, sailing, canoeing - kayaking as well as extreme sports, such as wake boarding and kitesurfing. On the East Beach operates the Nautical Club of Vari Varkiza and the corresponding premises.
It is located within walking distance from Varkiza Square, where there are restaurants, cafes, pharmacies and shops.
The Nautical Club of Vari Varkizas also operates on the East Beach. The Varis Varkizas Maritime Group operates on the East Beach.


Access instructions.
Driving through Attiki Odos of through Athens – Sounion Avenue, Parking spaces available
Bus Lines - 117, 171, 122


Peculiarities - Danger
For people of all ages especially families with children due to the shallow waters.
Caution is required when there is southern winds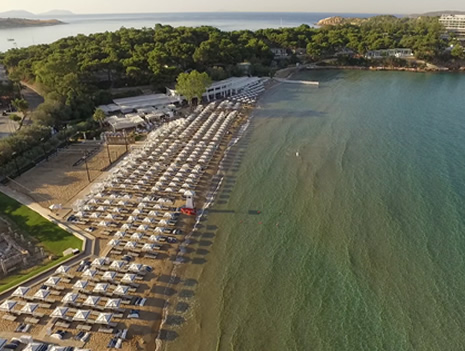 Asteras Beach

The best organized (private) beach of Attica, the beach of Asteras (Astir Beach) is located just 30' from the center of Athens, on the famous Athenian Riviera, in Vouliagmeni. Here Athena Onassis and Brigitte Bardot took their baths, while today, celebrities from all over the world prefer it for the hundreds of choices it offers, as well as for the quality of its services. Admission is by ticket and parking is extra charged.
It is one of the most prominent beaches of Attica.
White dominates and the color of natural wood dominates. Their combination creates an aesthetic agreement with the other natural colors of the environment, such as the blue of the sea and the green of the intense vegetation.
Right next to the beach is the Temple of Apollo Zostis.
The Four Seasons Astir Palace Hotel Athens is also open at the site.
With the beautiful blue waters and the amazing sunsets, on the beach of Asteras you can enjoy the ultimate seaside experience.


Access instructions.



Communication
https://www.astir.gr/beach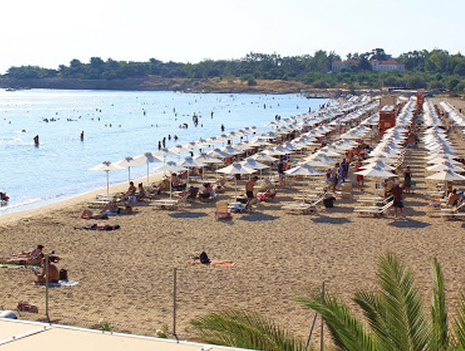 A Voula Beach

The beach has fine sand both on the coast and in the sea.
The waters are crystal clear and shallow - a fact attested by the Blue Flag with which it has been awarded since 2002.
There are no rocks and stones.
During the summer months of operation the beach is supervised daily by a team of lifeguards and there is also a provision of
It has sunbeds (aluminum and wooden), umbrellas (aluminum and wooden), lifeguard, doctor, toilets, changing rooms, showers, clothing shops, jewellery and marine items, restaurants (ice cream, meze shop, grill shop, Mediterranean cuisine, fast food), beach bars and event venues.
There are on-site football fields, beach volleyball courts, tennis courts. During its session, children's summer camp, concerts, themed music and fashion parties and volley.
Opening hours with entrance fee are 09:00 -19:00. After 19.00 there is no charge.
The beach does not operate in winter, but there is the possibility of free access. The beach is aimed at people of all ages! It is attractive to both young people and older people since each point has its own unique element! Due to its depth (shallow water to a large extent) it is ideal for children


Access instructions.
Metro: Γ2, Line 2,(red), stop at: "Elliniko station" combine with Bus: • Line: 122 • Line: 171 - Tram line, stop at "Voula station" - Orange bus: Route: Athens - Sounion


Peculiarities - Danger
There is a concrete ramp up to the entrance of the coast at a specific point of the beach that also serves wooden flooring, (dec), along the entire beach that can serve in the movement of bathers.