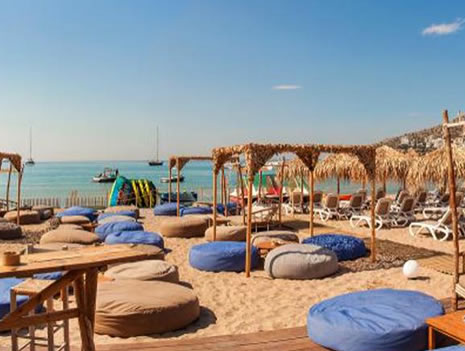 Varkiza Resort Beach

On the central beach of Varkiza is the huge both in length and in extent sandy organized beach YaVanaki, beach with sand and shallow waters.
It is a beach a few kilometers from Athens that really has everything and for all tastes.
The sea is the juice of the case, which is ideal for enjoying your bath. Here you will enjoy your bath all along it. You're going to be a little late to dive because it's shallow.
It is a multi-purpose space with many different activities as well as shops and services that operate from morning to evening, for all tastes. Free parking is available on site, and water sports such as banana, culture, water skiing, windsurfing, beach volleyball and a brand new children's park with roller coaster and bouncy castle are available as there is a first aid station and lifeguard.
On the beach there are sunbeds and umbrellas and it has three beach bars in all three restaurants.
In an area of 100 acres it hosts activities and events, has stadiums for sports, water sports, shops and generally offers all kinds of service that bathers may need. The options for fun and relaxation are many among cafes, restaurants, bars and of course the well-known beach bar with its famous parties until the morning.


.



Communication
https://www.varkizaresort.gr/beachmall/
This email address is being protected from spambots. You need JavaScript enabled to view it.
Tel. (+30) 2104511888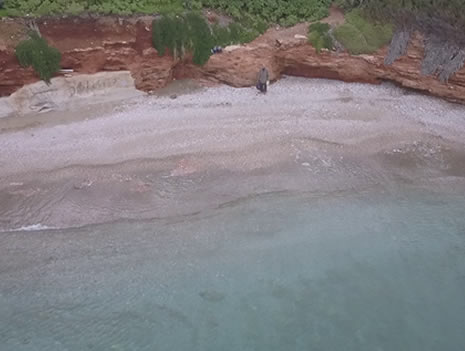 Alkyonides Beach, (Kanaria -Varkiza)

Free sandy beach with beautiful waters. It is located 26 km southeast of the center of Athens next to the restaurant "Alkyonides" in Varkiza.
It has sand, very beautiful waters, comfort for any kind of activity, easy access and within walking distance from Varkiza Square, where there are restaurants, cafes, pharmacies and shops.
Prefer to visit it on weekdays. On weekends in the summer months it is almost impossible to find free space unless you go early in the morning or late at dusk.
The beach is completely free and, in addition to swimming in the clear waters of Varkiza Bay, you can also dive off the rocks, sunbathe, or play racquetball, or with your ball in the water. In the surrounding cafes you can resort to your coffee, soft drinks, or drink.


Access instructions.
Bus acces s: Canary Stop (122).
Peculiarities - Danger
If you start early, you will arrive early and find parking space early!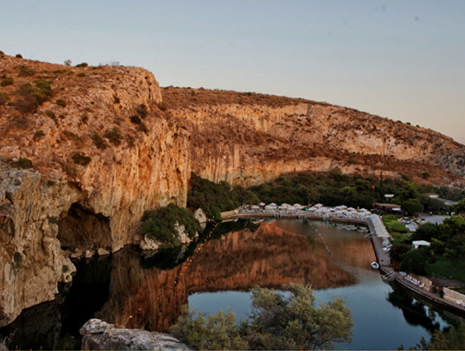 Vouliagmeni Lake

Vouliagmeni Lake, in the heart of the Athenian Riviera, is the hidden treasure of Attica's nature. Situated on an idyllic landscape, this rare geological phenomenon is waiting to be discovered. The lake's brackish waters which are continuously replenished both by the sea and the underground thermal springs offer a natural and unique thermal spa experience.

The imposing rock, thermal waters, the labyrinthine underwater tunnels and the lush vegetation create a unique geological phenomenon. The lake's present form was created after the roof of the cave fell because of erosion caused by the high temperature of the running water running. The lake is included in Greece's national NATURA 2000 network and as a Site of Outstanding Natural Beauty by the Ministry of Culture.

The labyrinthine cave.
At the edge of the lake, near the rocks, starts a labyrinth underwater cave which has been explored at a length of 3,123 metres, while the cave's end remains elusive. Among the 14 tunnels which make up the cave there is one reaching 800 metres in length the longest in the world. The discovery of a huge stalagmite in the cave has opened up new theories in the research for the formation of the Mediterranean.

The living world
The aquatic paradise of Vouliagmeni Lake hosts in its green waters a variety of unique organisms. Among them, a kind of sea anemone called Paranemonia Vouliagmeniensis stands out, as well as species of sponges and molluscs which portray the perfect balance of the lake's ecosystem. Its aquatic world also includes the known fish Garra Rufa which offer skin exfoliation.


The description is from the Vouliagmeni's Lake website

Communication.
Lake Vouliagmeni
Poseidonos Av., Vouliagmeni, 16671
Athens Riviera, Greece
T +30 210 89 62 237-9
Email: This email address is being protected from spambots. You need JavaScript enabled to view it.
Reservations : This email address is being protected from spambots. You need JavaScript enabled to view it.
Sales : This email address is being protected from spambots. You need JavaScript enabled to view it.
ALL YEAR
Contact Vouliagmeni Lake for prices
(+30) 210 8962237 (+30) 210 8962239
web site http://www.limnivouliagmenis.gr/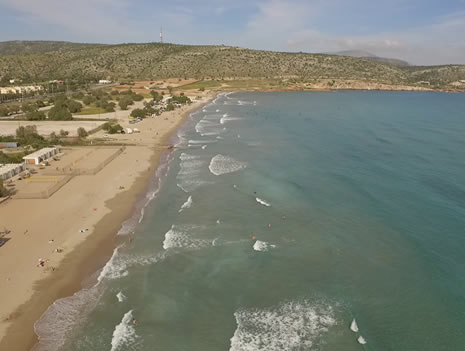 East Varkiza Beach

Free and easily accessible beach with fine sand on the coast and in the sea and clear shallow waters.
It has a length of 650 meters and easy parking.
It has thick and golden sand on the coast and in the sea clear, blue shallow waters
Beautiful and sandy, easily accessible and with free entrance is ideal for a short getaway.

It is used all year round by lovers of water sports such as wind surf, sailing, canoeing - kayaking as well as extreme sports, such as wake boarding and kitesurfing. On the East Beach operates the Nautical Club of Vari Varkiza and the corresponding premises.
It is located within walking distance from Varkiza Square, where there are restaurants, cafes, pharmacies and shops.
The Nautical Club of Vari Varkizas also operates on the East Beach. The Varis Varkizas Maritime Group operates on the East Beach.


Access instructions.
Driving through Attiki Odos of through Athens – Sounion Avenue, Parking spaces available
Bus Lines - 117, 171, 122


Peculiarities - Danger
For people of all ages especially families with children due to the shallow waters.
Caution is required when there is southern winds